Information Regarding Osa Peninsula, Drake Bay, Costa Rica Adventures Hotel Options
Hotel Options
Tree Top Beach Lodge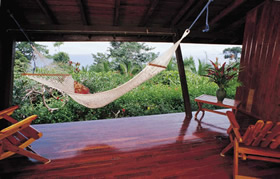 Tree Top Beach Lodge - "It is paradise"

This small and very remote beachfront lodge is located between Drake Bay and Corcovado National Park and situated on the beach of a protected cove just to the north of Playa Caletas.  The hotel is set on over 60 acres of pristine rain forest and the hotel is accessible by boat only- there are no roads here.    The hotel is intimate with accommodations for up to 12 guests.  Accommodations are brand new villa style units, with a nice tropical motif and range from one room, one bathroom to family orientated two bedroom, two bathroom.  Each has a balcony with a beautiful view.  The gorgeous restaurant steps off the beach.
Just out front is what I call Highway 1, it's actually a trail that stretches along the coast from Drake Bay all the way to the south side of Corcovado National Park and takes 12 - 15 hours to hike it.   It is a trail withCove after cove of beautiful beaches and tropical scenery, teeming with wildlife.   You can step your door and access this trail and walk for as short or as long as you like, pack a picnic, bring your camera or just an early morning Sun Salutation on the beach.
The lodge is loaded with fun things to use such as sea kayaks, snorkeling gear and a nice selection of surf and boogey boards and where Captain Jeremy Librett fishes out of. 

Absolutely a beautiful and peaceful place to spend a vacation.
$125 per person, all included except alcoholic beverages, (hotel is included in package)
Pura Vista Eco-Lodge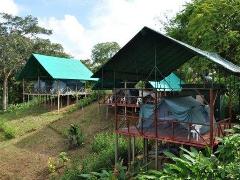 Pura Vista Eco-Lodge "Where it's Pura Vida"

The Pura Vista Eco-Lodge is located above the town of Drake Bay and is part of a 50 acre privately owned farm.  The hotel is located on the top corner, providing easy access to the beach, trails and tours as well as  beautiful views of Drake Bay and primary rain forest.   It is the people that make it so special and the word "No" is not practiced by its staff members.    

The lodge is simple and the structures built on non-permanant stilt bases for the least impact to the terrain where located.   There is a big restaurant bar to relax, eat and converse with friends and other travelers.   The accommodations are family tents on platforms.  Each one with a double bed, single bed, electricty and a private bathroom with shower.    The ECOCAMP has 10 tents, all over wooden platforms, they are tied and secured with ropes, but also have a tubular structure to provide extra stability.  Each platforma also has lodging facilities as shower, toilet and 110 volt electricity.

The lodge is in the area o dense vegetation and a 15 minute walking distance to the beach via a trail on the property or a little longer, by the public road, so you can interact with the local people.  On the property itself you can see literally hundreds of birds, of many species, frogs, many trees and exotic flora and faun. Their is alsoa  creek in the property which flows peacefully until it reaches the ocean.
This is a nice mid price option with a low key family run vibe.
$55 per person, all included except alcoholic beverages, (hotel is included in package)
Casa Pequena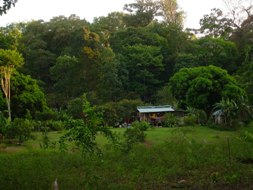 Casa Oswaldo Lodge - "Home away from home"

Casa Oswaldo Lodge is a low ley and very inexpensive lodging option.    Located just out side the tiny town on Los Planes and on the road to Caletes Beach it is situated on a 40 acre farm that is tucked in the forest with a large clearing and pasture.  The farm is in a working state and is loaded with tropical fruits, vegetables and more.   This location has great access to the primary forest and many hiking trails.  It's a good half hour walk to the beach from here.   I love this spot, it's dirt cheap and the host is a great person.  C 

The accomodations are rustic cabins but they are very clean and each has its own bathroom and shower.    Their is a small restaurant with a great brick pizza oven.  Meals are available and inexpensive and cooking privlidges are allowed if you inlcude the host or a small fuel fee applies.
Casa Oswaldo is all about the Pura Vida of Costa Rica

$15 per person, just breakfast included