Information About Top Costa Rica Charter Captains, Fly Fishing Guides & Mates
Information About Top Costa Rica Charter Captains

Costa Rica is home to some of the top charter captains in the world such as John LaGrone, Richard Chellemi and Bobby McGuiness. All can be found on the captains trophy for the Billy Pate International Fly Tournament.  Jeremy Librett is proud to join them on the honored trophy after winning the 2001 tournament as well as having the respect of his peers.
Their are a group of well known captains around the world such as David Noling, Kevin Nakamura, etc.  Captain Jeremy fishes some of the same clientele.   What makes him different though is his enthusiasm and passion on the water. As well we being very he is friendly, fun to fish and a great teacher.  (see testimonials)
Jeremy is known for being a top professional, his enthusiasm and ability to teach anglers how to fly fish for sailfish, marlin and the great variety of in-shore and off-shore species here in Central America.  Although specializing in fly and light tackle he is very well versed and does it all.  

You will find that Captain Jeremy splits his time in the tower and on deck putting his mate at the helm as well.  His "mate" is the well regarded "Tico" captain, Gata.  
He believes two captains on board make for some excellent collaboration and if one doesn't have the hot hand.. the other does.  They also each have a group of excellent captains they speak with daily so always staying in the know of whats happening on the water amongst the fleet.   
The main reason you can find him in deck is to ensure good communication between himself and his guests.  Successful fishing, especially fly fishing demands good communication. Joe Dowdell, the winning angler for the 2001 Billy Pate was a novice fisherman.  He also likes to stay sharp, stay humble and participate in the action of the "pit".

Jeremy likes to to think as if he were a customer, what he would expect and how he would feel at any given moment. This helps to ensure an enjoyable day. He keeps you informed as to hat's going on, why we are fishing our spots, our spread, our teasers, etc.  Customers come away with a complete experience.  He is great with kids and lady anglers too.
Always positive and practicing the "zen" fishing approach of no need to yell, scream and get everybody in a panic.  When that slob comes around,  the calm organized approach catches them consistently.

Fishing with Captain Jeremy is an opportunity to fish with one of worlds best.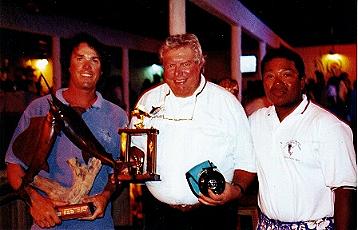 Winner Billy Pate Invitational Fly Tournament - Top Captain & Top Angler
We are legitimate specialists that come highly recommended and fish more fly and light tackle days than other boat in country accumulating thousands of days of local knowledge and experience.
Our captains are proven and well respected and crews passionate and experienced blue water fly fisherman who understand the nuances of building a clientele of happy repeat customers.  We do not fish for their numbers and egos but fish to provide the angler an enjoyable, productive learning experience.  
We are proud to say that all our crew members have tournament wins as either captains or mates and want you to catch fish and achieve your dreams.
Experience on the water is key to productve days. When the fishing is slow our captains have thw additonal knowledge to make something happen.
Many captains in Costa Rica prefer the easy route and head offshore and troll everyday. Fly fishing is difficult, inshore fly especially, live baiting also takes a lot more work.   Our guys love to be diverse and sklilled in all facets of Big Game fishing.
Our crews take pride in their work, pride in the equipement and pride in their boats.   Fish owner operated... The experience is better.
http://www.costacaptain.com/index.php/testimonials