Information About Top Costa Rica Charter Captains, Fly Fishing Guides & Mates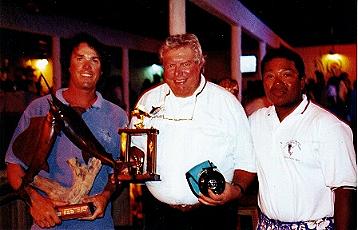 Winner Billy Pate Invitational Fly Tournament - Top Captain & Top Angler
We are legitimate specialists that come highly recommended and fish more fly and light tackle days than other boat in country accumulating thousands of days of local knowledge and experience.
Our captains are proven and well respected and crews passionate and experienced blue water fly fisherman who understand the nuances of building a clientele of happy repeat customers.  We do not fish for their numbers and egos but fish to provide the angler an enjoyable, productive learning experience.  
We are proud to say that all our crew members have tournament wins as either captains or mates and want you to catch fish and achieve your dreams.
Experience on the water is key to productve days. When the fishing is slow our captains have thw additonal knowledge to make something happen.
Many captains in Costa Rica prefer the easy route and head offshore and troll everyday. Fly fishing is difficult, inshore fly especially, live baiting also takes a lot more work.   Our guys love to be diverse and sklilled in all facets of Big Game fishing.
Our crews take pride in their work, pride in the equipement and pride in their boats.   Fish owner operated... The experience is better.
http://www.costacaptain.com/index.php/testimonials